Forbes Magazine Highlights IFN's Purpose to Help Injury Victims
June 30, 2017, on Articles, News | Share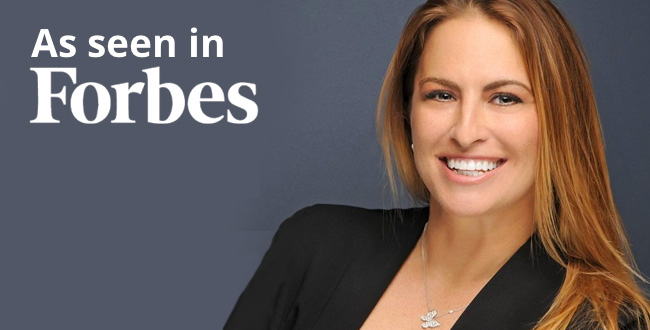 Forbes recently published an interview with our company's founder, Lauren Lipcon. The article touches on many topics, from Lauren's passion for business to her love of kitesurfing, but it focuses primarily on her reasons for staring Injury Funds Now in 2003. Two reasons are highlighted in particular: Lauren's desire to help people who are vulnerable to the insurance companies, and her unwavering commitment to serving those who need help in her community.
Motivated by Purpose
Having been exposed to the world of personal injury law growing up, Ms. Lipcon gained intimate first-hand knowledge of the challenges facing individuals who are unable to work due to serious accident-related injuries. She also quickly came to understand how insurance companies are primarily motivated by profits, and how they often disregard the health and wellbeing of those who have been injured. Too often, accident victims were being forced to accept unjust settlements – in many cases pennies on the dollar – because they simply could not afford to wait for the recovery they deserved.
Ms. Lipcon started Injury Funds Now as a way to help accident victims stand up for their rights. "It made sense that if the playing field was balanced, the injured person would have a better chance to get what they deserve. . .. One day I just made the decision to start offering the service, and did."
When Injury Funds Now started nearly 15 years ago, it was one of the first companies to offer pre-settlement lawsuit funding. Today, it's purpose remains the same. The insurance companies are not easing up on accident victims; if anything, they are doubling down. By offering 24-approvals and unparalleled client service, Injury Funds Now continues to be a leader in helping accident victims meet their day to day financial obligations, giving them staying power to get the recovery they truly deserve.
Community Leadership and Stewardship
Starting Injury Funds Now was also a way for Ms. Lipcon to make a difference in her community. While Injury Funds Now serves accident victims in 38 states, many of our clients are located right here in Miami, Florida. We have seen and heard first-hand stories of clients whose lives have been changed because of having the opportunity to pursue their injury claims without financial strain. As written by Forbes Contributor Brian Rashid:
"When you give your time and/or money to your community, seeing the impact you have on people with your own eyes inspires you, even if the impact is small. It inspires you to become even more successful so that you can continue to give back in even bigger ways."
This is what drives Ms. Lipcon and everyone behind the scenes at Injury Funds Now, and it is what motivates us to continue serving more people than ever before.
Injured in an Accident? Apply for a Florida Lawsuit Cash Advance Now
At Injury Funds Now, there are no application fees or credit checks, and we offer a best-price guarantee. If you are eligible for funding, we can approve your case in 24 hours. To find out if you are eligible for a lawsuit cash advance, contact us today.  Submit your free application online now.