Awards & Recognition
DBR Recognizes Injury Funds Now as a Top Lawsuit Funding Company for a Third Time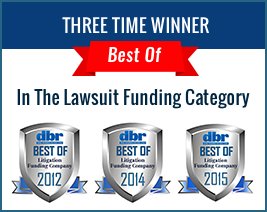 Injury Funds Now (IFN) is proud to announce that the Daily Business Review (DBR) has recognized our firm for a third time as being one of the top lawsuit funding companies for 2015. The recognition is especially meaningful to us, as it is the readers of the publication, as well as past clients and business peers who cast their votes in a variety of categories. IFN wishes to thank all of the clients and peers who have helped us become the thriving firm we are today.
Readers were asked to vote by either an electronic survey or ballot made available on DBR's website. The ballot was filled with over 50 categories ranging from real estate and finance to technology and legal. Vendors ranked in the magazine are deemed to be the "best of the best" in their fields.
About IFN
Since 2003, IFN has been providing cash advances for injured clients who have been involved in a variety of accidents ranging from motor vehicle crashes to bike accidents to construction accidents and many others. There are a number of injuries that, depending on the specifics of the case, may be eligible for funding, including surgically treated herniated disks, surgically treated back and neck injuries, paralysis, other types of surgically-treated injuries as well as broken bones and fractures.
We work hard to help those in need of financial assistance while awaiting resolution to their cases obtain the funds necessary to cover accident-related medical expenses, as well as routine daily financial obligations. The process is fast, easy and most importantly, risk-free. We continue to be committed to offering settlement funding to injured individuals who are working with attorneys and dealing with ongoing cases.
IFN is proud and honored to have been recognized as a firm that continues to exceed industry and client expectations and we thank you for allowing us to continue to serve you.