Injury Funds Now Launches New Website
July 20, 2017, on Lawsuit Loans, News | Share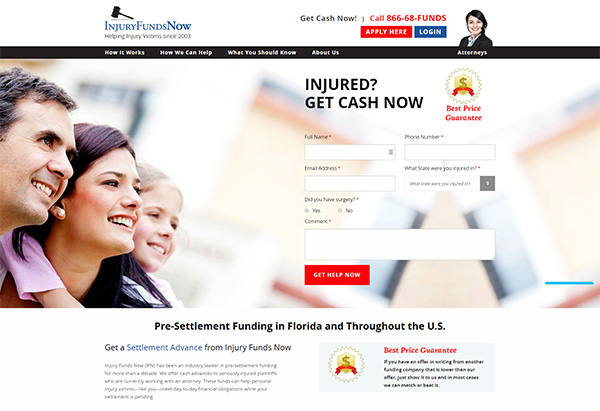 Injury Funds Now (IFN) is proud to announce the launch of our new website, which we have created to serve as a portal for injured victims and their families searching for information on Florida lawsuit loans* in Florida as well as throughout the rest of the nation. IFN's new website provides the type of comprehensive, informative and up-to-date information you need if you are considering an advance to help fund your personal or medical expenses during the course of your injury lawsuit.
Injury Funds Now Is Committed to Providing Consumers the Help They Need 

For injured victims with health concerns and financial worries on their minds, navigating the complex market for lawsuit cash advance options can be very difficult. IFN makes this process easy and simple.
For more than 10 years, our pre-settlement funding services have made it possible for auto accident victims, fall victims, victims of boating accidents and other seriously injured victims to meet their day-to-day financial needs as their claims are resolved within the civil justice system.  With the launch of our new website, we not only continue to provide access to funding for victims working with attorneys, but we have also enhanced our ability to provide those who have been hurt – and their loved ones – with the information they need to make the right choices about pre-settlement funding.
It is important for victims and their families to understand how lawsuit funding works and to make an informed decision as to whether such funding is to their benefit, as well as what a lawsuit loan* can be used for.  Our website explains how lawsuit funding works, what the approval process entails, what type of injuries make you eligible for funding, and how to select a lawsuit funding company.
Because our new website makes it easy for you to find out all you need to know about how a lawsuit loan* works, you don't have to spend hours researching when you're coping with serious health issues. You can become a fully-informed consumer, understand your rights, and get the help you need and we are proud that we can provide this service to vulnerable victims who are already going through too much after being hurt by negligence or wrongdoing.
Streamlined Application Process
Our new website allows applicants to get pre-qualified directly online. The application process only takes 2-3 minutes, and thus is much faster than applying by phone.  Once the application is completed, IFN will have all the information needed to make a quick pre-qualification decision, which is typically done within a few minutes of receipt. If the application pre-qualifies you for an advance, we will request documents from your law firm and can have an approval for you as quickly as 24 hours – which is among the fastest turnaround time in the industry.
Whether you need a settlement advance and want to work with a trusted company, or you are just hoping to find out how the lawsuit loan* process works in case your injury case lasts longer than your savings does, we encourage you to apply online with IFN today to get the comprehensive help you need from caring and compassionate professionals.
DISCLAIMER: The term "loan" or "loans," where used to describe lawsuit funding is not an accurate legal or financial definition of the transaction. IT IS NOT A LOAN. The transaction is a non-recourse purchase of a portion of the proceeds of a potential future case award or settlement. A loan is a transaction that always requires repayment. Our lawsuit funding only requires repayment if the plaintiff receives a favorable recovery. If the plaintiff loses their case, they do not repay anything